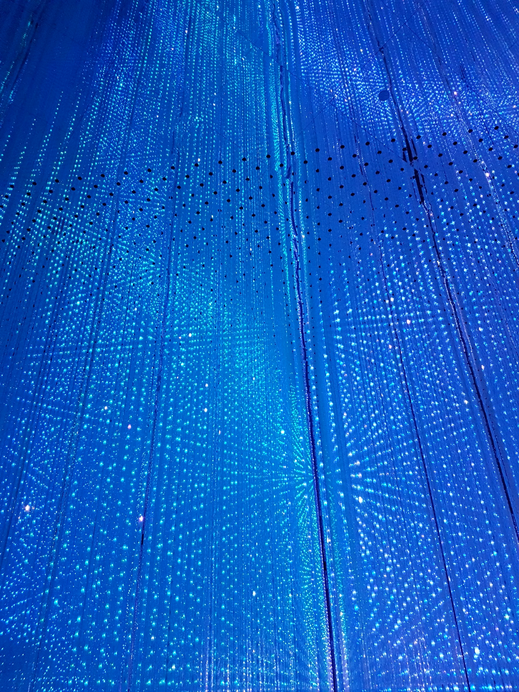 On this beautiful day (it will change in the coming days), I went to the artificial island of Odaiba for a very specific reason : to see TeamLab Planets. I bought my ticket online for this morning, and stayed there for almost two hours.
I don't know if you know the TeamLabs: in a very dark place, they project lights and sounds with specific devices to create atmospheres. It is a kind of technological museum where we discover different atmospheres by following a circuit.
There was one in Paris a few years ago, but I no longer hear about it in France. In Tokyo there are two including that of Odaiba.
This one is special because we visit it barefoot to discover different sensations  : we walk on carpet, large cushions (where we sink) and in water. And in order, we discover atmospheres created with strings of light (room 1), projections of koi carp on the water in which we walk (room 2), large balloons that change color (room 3) , and flowers that are projected on a dome (room 4).
It's very beautiful and with the music that accompanies us, we want to stop and take the time to admire the colors and the images. Besides, many Japanese people lie on the ground except in the pond of course.
As it is very dark inside, my cameras had trouble taking quality pictures. However, I can offer you some photos and the videos below.
Note that TeamLab encourages visitors to take photos and film, and does not prohibit it !